Orange Favorite Garden Contest / Concurso de Jardines Favoritos
Get excited for Orange's Favorite Garden Contest!
Every year, Orange residents showcase why New Jersey is called The Garden State with our beautiful yards and gardens some even with a Garden House and more. Take a walk through each of our four wards and you'll find breathtaking front yards with a range of flowers, shrubs, and produce that will remind you of two very important things: that nature is filled with wonder and beauty, and that we can grow our own fresh fruits and veggies in our own homes and communities! 
This summer, let's celebrate Orange's gardens and green thumbs in the Favorite Garden Contest! Read below for more information.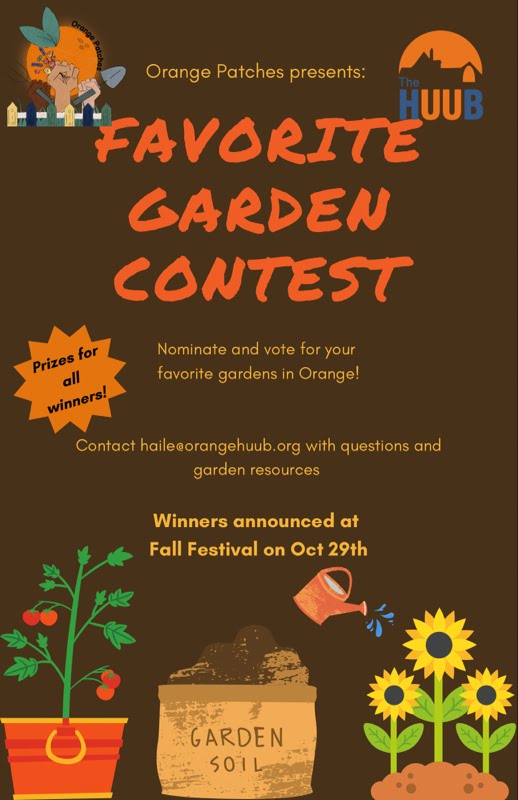 To participate as a nominee:
The garden must be the nominee(s)' work! (Ex. The nominee(s) are planting and tending to the plants.) Gardens designed by nominees but tended by others can be nominated for the Landscaping category.
The garden must be in Orange. Nominated gardens outside of Orange (ex. East Orange, West Orange) can be nominated in the County Neighbors category.
Contest Categories:
Flower Garden
Ornamental Plants/Shrub Garden
Trees and Fruit Tree Garden
Produce Garden
Children's Garden (Home)
School / Community Garden
Window/ / Fire Escape / Indoor Garden
Landscaped Garden
Newbie Garden – folks new to gardening and gardens started to enter this contest
Pollinator Friendly Garden
County Neighbors – Any gardens outside of Orange city limits will be placed in this category
Contest Rules:
Nominate yourself, neighbors, and those yards you love to admire on your walks through town! Nominations are open from until October 8th. Nominees must include the following information:
Garden and gardener name(s),
address,
category(ies),
50-100 words about you and your garden (or the garden you are nominating),
list of plants included in your garden (common name or scientific name),
and photos/video of your garden/landscaping (1 photo required for nomination, all photos and videos must be submitted by October 15th).
We strongly encourage nominees to take photos of their garden's progress throughout the summer and fall to help voters see the full beauty and magic of their garden!
Once nominations are closed, voting begins online! Nominees can promote their garden and the contest on social media – don't worry if you don't use social media, Orange Patches, The HUUB, and our partners will be promoting the contest and encouraging our Orange neighbors to vote! Everyone can submit 1 vote per day until voting closes on October 28th at Midnight (12PM). Winners will be announced and prizes distributed at the Fall Festival on October 29th!