2022 Annual Fund Campaign: There's no HUUB Without You and You!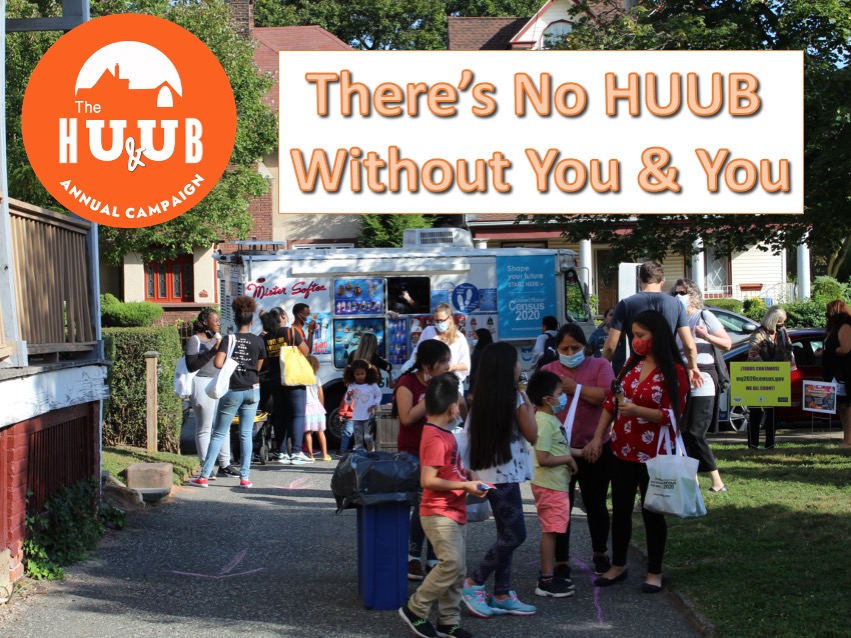 Dearest HUUB Friends and Family, 
Summer 2022 is upon us and we hope you and yours are healthy and safe during these complicated times. Here at HUUB, it's time for our 2022 Annual Fund Campaign, "There's no HUUB Without You & You," and we're asking for your support!
The title is a double entendre, giving a wink to the two Us in our name, a reminder of the Unitarian Universalist principles that shaped the HUUB, as well as an explicit statement of appreciation to ALL OF YOU, the neighbors, friends, allies, and team members who are HUUB's reason for being as well as our source of inspiration and energy.
In this year's campaign, we are celebrating HUUB's amazing team and the incredible work they are doing in Orange – the Y-O-U at the core of HUUB's success. Each week of the campaign, we'll focus on one of the HUUB's programs and the team member who is leading it. These are the folks on the ground, cultivating relationships across communities and working tirelessly to shape a better future for the people who live in Orange. Check out our campaign page to meet Zaki and hear a bit about Planning to Stay and the Joe Thomasberger HUUB Fellows!
The last year has brought big changes and big growth to the HUUB. We can't wait to tell you all about it over the next month and hope you're as inspired by and excited about this chapter of HUUB's community building and civic engagement as we are.
Please support our ongoing work by donating here, http://2022.orangehuub.org . Every donation helps us and we are truly thankful for anything you can give.
We appreciate you.
Onwards,
The HUUB Team
Daniel, Charlie, Zaki, Haile, Sharee, Ernest, and Tony